Meet Midihub!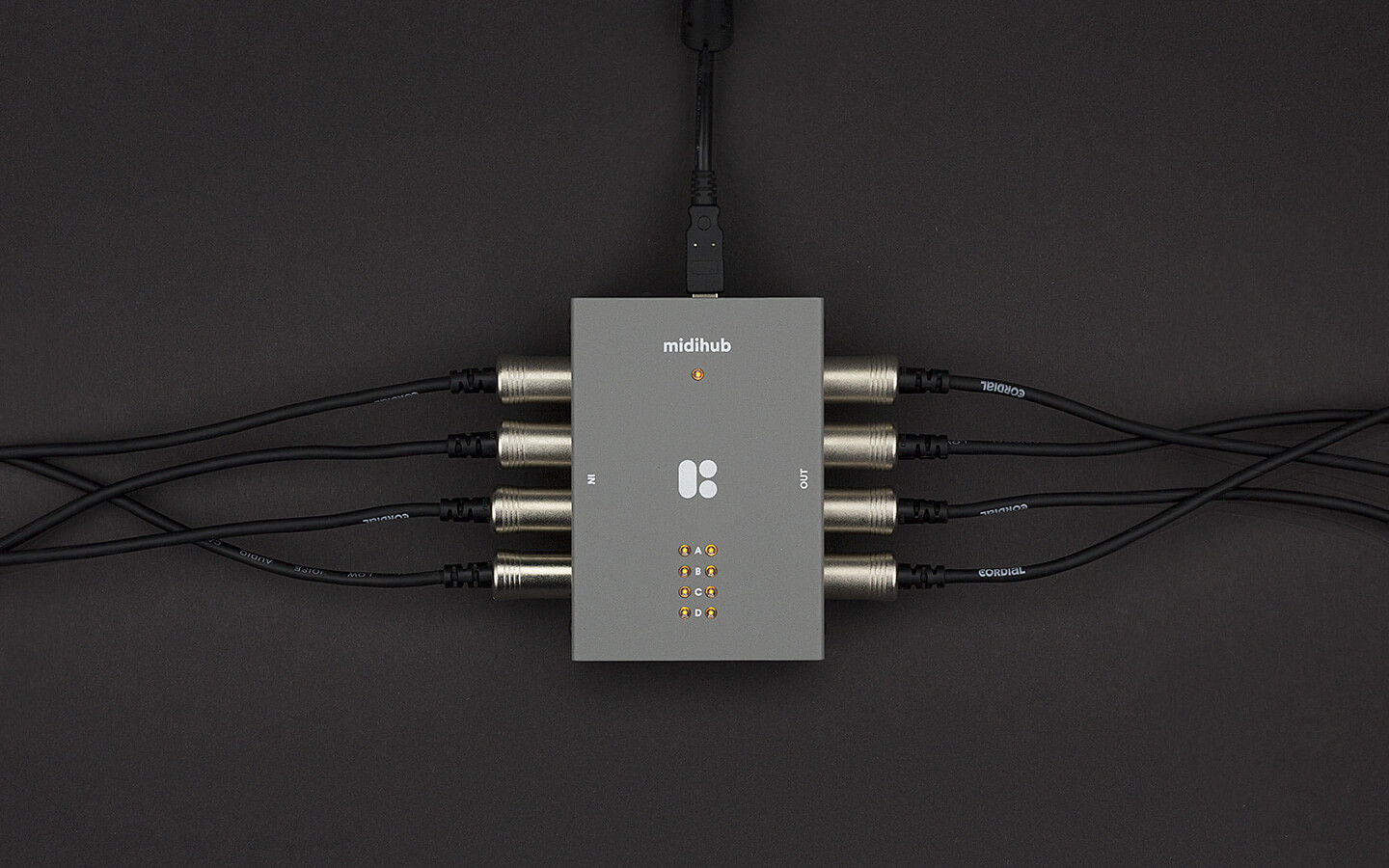 Midihub is a versatile MIDI Processor & Router! It has classic MIDI Input and Output ports, 4 of each, as well as a USB port for power and/or communicating with your computer. Using the dedicated Editor you can set-up Midihub to process MIDI messages in tons of useful and creative ways and once your presets are stored you can use Midihub completely stand-alone in your computer-less setup.
What Can It Do?
Here's a quick non-exhaustive list of the uses you could expect to fulfill using Midihub.
| | | |
| --- | --- | --- |
| Classic USB MIDI Interface | MIDI Thru Box | Master Clock |
| MIDI Router | MIDI Splitter | Arpeggiator |
| MIDI Filter | MIDI Note Repeater | MIDI Note Velocity Amplifier / Equalizer |
| MIDI Transformer | MIDI Randomizer | MIDI Delay |
| CC LFO | MIDI Sustain Pedal | Micro Tuner |
| Note Scale Remapper | Note Transpose | Voice Dispatcher |
| MIDI Combiner / Merger | Keyboard Splitter | Multi-CC Controller using a Single CC Knob |
| MIDI Sync Offset | Note to Chord | Fixed Note Length |
And Midihub can do any combination of the above and even more!
Editor & Pipes
The Midihub Editor lets you customize Midihub's processing logic by laying down the processing pipelines. The interface is based on intuitive Drag & Drop. Every pipeline starts from an Input or Generator pipe, from which MIDI data flows to the right, until it ends up in an Output pipe.
Pipes
Find the documentation of all the pipes here.
You can play around with the Editor even without the device connected. Download it for your platform below.
Download for Windows
Download for macOS
Download for Linux

Download for Raspberry Pi
Release Date: 2020-08-05 | Version: 1.11.4
CYLVESTER x Midihub
In the videos below Tobias and Max, the electronic music duo called CYLVESTER, took the challenge to present how they use Midihub in their DAW-less setup. We are enormously grateful to them for making this series and we encourage you to follow the band on YouTube and Instagram!
Videos:
Midihub in the Wild
In the 3rd part of his "Generative Music Making Series" @loopop uses Midihub to present various MIDI generative ideas that were heavily inspired by Ólafur Arnalds. For more music tech tips and tricks we suggest you to subscribe to his YouTube channel!
What Are People Saying? 😍
Midihub Specs
| Parameter | Value |
| --- | --- |
| Input/Output Connectors | 8 x DIN-5 Female Sockets & USB-B Port |
| MIDI Loopback Latency | Less than 1.5ms |
| Activity LEDs | 4 x MIDI Input, 4 x MIDI Output & 1 x Status |
| Storage | 8 Presets |
| Other Input | 1 x The Button |
| Parameter | Value |
| --- | --- |
| Enclosure | Powder-Coated 1mm Steel |
| Power | Bus-Powered - Computer or 5V USB Power Supply |
| Current Draw | 50mA @ 5.1VDC |
| Cable | USB-B 1m Cable Included |
| Dimensions | 75mm x 108mm x 36mm |
| Weight | 285g |
We Say Thanks 🙏