Collaboration is highly praised in corporations. You have probably heard phrases like "teamwork is key" thrown around quite often. And there is a reason why! It is proven that collaboration stimulates productivity, improves problem-solving and communicating skills, and makes our work more efficient. However, as artists, some of us tend to close up and lead quite an individualistic lifestyle, especially when it comes to our creative process. Sometimes we do it because we are used to it, and it seems just easier and quicker to finalize a new idea on our own. Other times, it seems just too big of a risk to let someone new into this sacred and very intimate process of creating art. So, today we will talk about the importance and power of collaboration in music and art in general, but let's start from the beginning, shall we?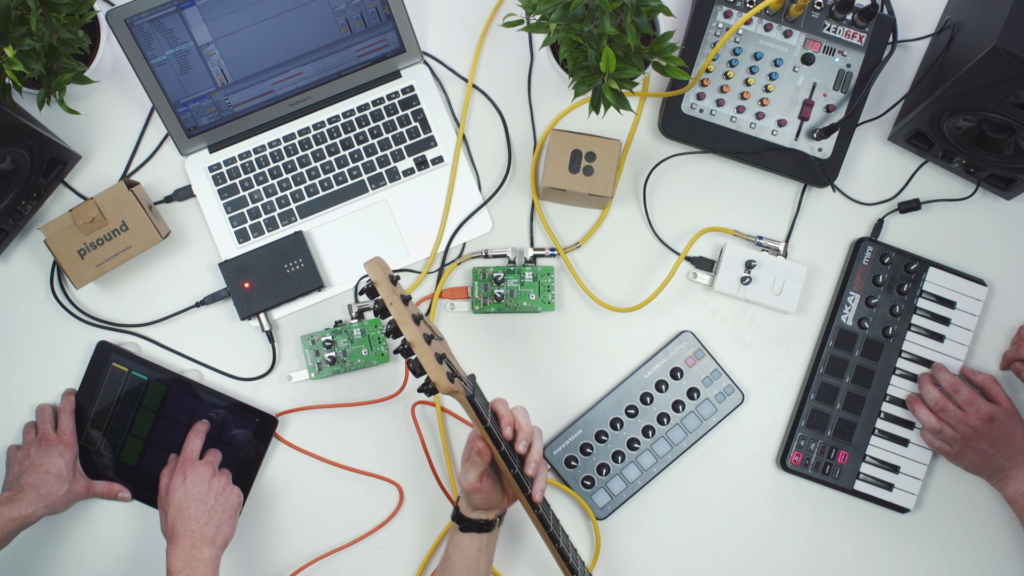 Collaboration means…
… Creating together. 
As obvious as it may seem, right? However, this is the first challenge we must face because creating together means daring to open up and let someone into your creative process, sharing your mind and artistic vision. There is no space for anyone's ego anymore. You and your creative partner(s) have a mutual purpose to be moving towards to. This means that the final result will belong to all collaborators (unless agreed otherwise). Collaboration in art is a lot about learning to express yourself just in the right way, so your creative partner understands you, but even more about learning to listen. It is not an easy task but definitely worth it. Through collaboration, you will learn a lot of new things about other creators, your craft, and even yourself.
"I've collaborated a lot in the past with other musicians, artists, vocalists, and professionals. I think it's a good way to share ideas, gain insight and inspiration, and generally just learn from others. Most of the time, I've collaborated creatively with friends – one of my favourite Collaborations was with my friends Invadhertz; they're a great drum and bass outfit, and we released a couple of tracks together while I was working under the alias 'Kentro'. I learned a ton about how they work, and I think we have really complementary skill sets, so the tracks came together super quickly! I released them as part of an EP by Invadhertz on my label: Peng Dominion," – Emil Smith.
… Learning together.
So, let's delve a bit deeper into the learning part of the collaboration. As we all have individual strengths and weaknesses, we can definitely teach our creative partners a lot. As well as learn from them. From very basic technical tricks and tips of making music to a bit broader and deeper things. Like understanding how your sound can affect someone's emotions.
"The immense collaboration we have just done with developing the first iteration of the ANU has also been really important. It stretched our knowledge of circuit design, building, music-making and gave us the chance to work with totally different people (Sam Andreae, Tom Ward, who had a coding background), and then test the hardware globally with improvisers and musicians who it was great to connect with!" – David Birchall, Noise Orchestra.
Although, while collaborating, we learn not only from our creative partners but also from the process itself. And what is even more important is that there are so many different ways to collaborate. Yes, sometimes we imagine it very simple: a few people work on the same project at once. At the same place, preferably. However, not necessarily. Collaboration comes in so many different forms! Such as inspiring each other, sharing and discussing our ideas or giving feedback on other creator's work.
"I think it's important to collaborate at the very least in terms of sharing information and ideas freely and openly. I wouldn't say it's necessary to collaborate on actual pieces of work. Lots of great artists work alone, but they don't learn in a vacuum. Collaboration at its core is just about working together, and in my experience, that can even just mean finding people to discuss your ideas with and learn from, even if you're not working on the same piece together," – Emil Smith.
… Growing together!
In many different ways. Collaboration can help you reach bigger audiences, especially if you create with people coming from other than your usual social circles. Sharing platforms and audiences is definitely a win-win for every collaborator. Working together can help you grow as an artist as you are given an opportunity to broaden your views and see the same things from different perspectives. Collaboration can even help you grow as a person! Gain new qualities, learn more about what you like (and don't like!), or even help you overcome your creative blocks.
"Most of my creative blocks stem from looking at the project or problem from the same old viewpoints. Fortunately, there are nearly 8 billion others in this world. Searching for how others did something similar, collaborating or bouncing ideas off of friends (or virtual friends in forums), is invaluable. I love living in a time of near-infinite exchange of ideas, and so many ways to collaborate," – Randall Reichenbach, pi-Stomp.
How often do you collaborate? Please share your best collaborative works with us via Facebook or Instagram, email hello@blokas.io or in the comments section down below!