Nowadays, human against technology is becoming a prevalent theme. We hear it in films, books, or even science, but brother vs robot is not your traditional story about the fight between people and computers. It's rather a story about a musician who found a way to turn this ongoing war into a brilliant hardware-based and visually hypnotizing music project. Today the mastermind behind brother vs robot, Colin James Robson, shares his thoughts on social media, its challenges, advantages, and many more.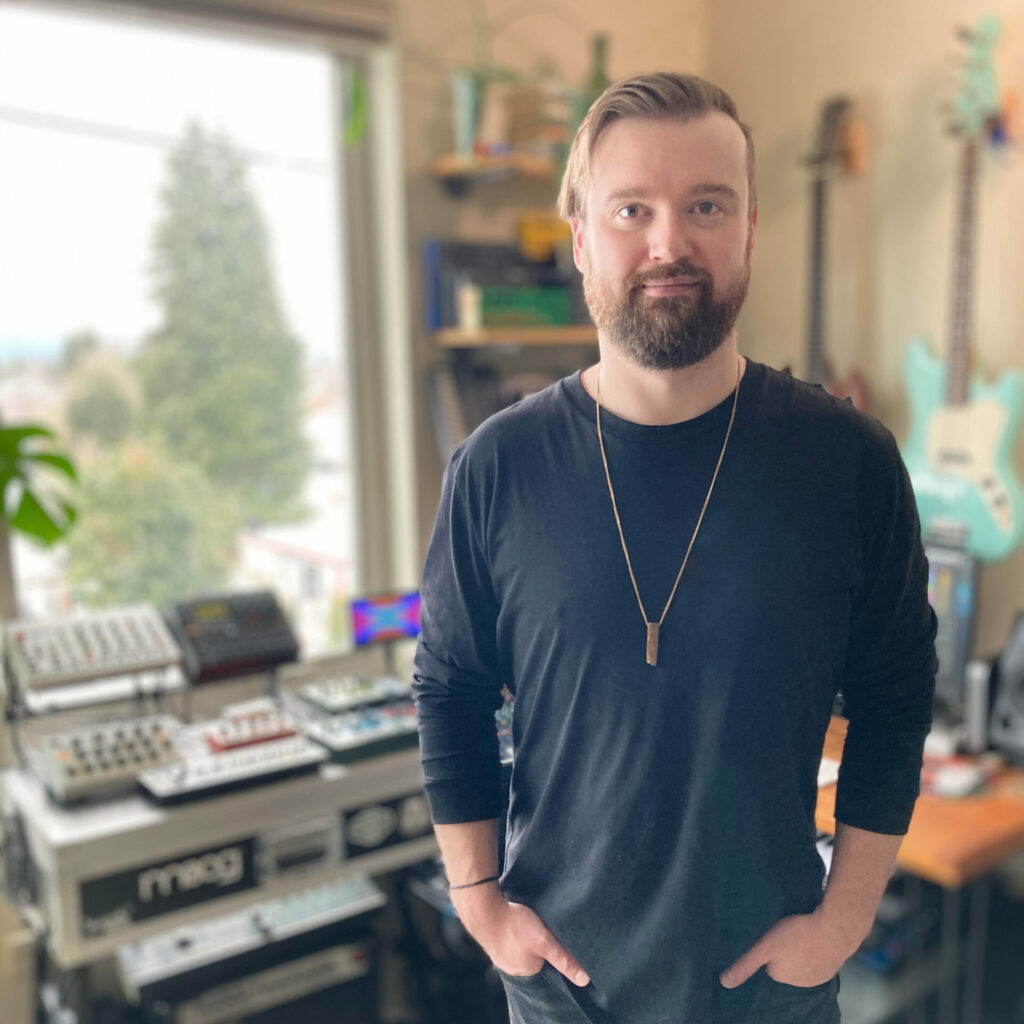 How did you realize that electronic music is your thing and when did the brother vs robot show up in your life? Who is the brother, and who is the robot?
Well, this is a bit of a long story. A few years back, I had to make the hard decision to leave a successful band I had been producing and touring with for years once our relationship had broken down during many months being on the road together, and it wasn't the first time that had happened. I was ready to move onto a project I could make solo, but in a totally different direction, putting together an audio/visual show that was unique and only required me.
I wanted to move away from the computer as most of my professional work is based in Pro Tools and wasn't inspiring me at the time. I have always been into guitar pedals with big, complicated chains and large pedalboards, so moving into a world with a bunch of devices connected by midi was a natural progression for me.
I ended up finding the Novation Circuit and started experimenting with midi sequencing and synthesis. I was so inspired that I began acquiring other synths, drum machines, loopers and sequencers. I fell in love with the playground of the Critter & Guitari Organelle and analog subtractive synths – my first being the Arturia Microbrute. It took me almost three years to really find a sound and create what I had in mind. In that time, I have built up a nice collection of affordable gear that covers everything I want. I'm still always seeking knowledge and working on new tricks and hacks constantly.
When I started making this style of hardware-based music, it was a battle to learn the gear and push myself to make the sounds I wanted. I saw it as an opportunity to conquer a challenge that I was unaccustomed to as a musician. In that battle, it was me versus the machines, so you could say that I am the brother and the gear is the robot. I officially launched brother vs robot at the end of 2019 and started gigging just before the pandemic hit. Hoping to be back on the road as soon as the world lets me!
"It took me almost three years to really find a sound and create what I had in mind."
In your opinion, how is social media affecting creators these days, and why did you decide to share your work there? Which channel is the most effective for you?
At this point, social media is unavoidable for any artist – it's so crucial to building an audience these days. I like the more focused Instagram platform to present simple videos and images – more true to the art itself than Facebook/Twitter that can be cluttered and distracting. I have really found a great group of like-minded synth nerds on Instagram. I stream semi-regularly on Twitch and I plan on moving into bigger productions on Youtube this year as well.
I think most of us creators have a love/hate relationship with social media, especially in the age of covid where we don't have the opportunity to connect with fans in person. I'm glad to have the platform to spread my work, but I am conflicted about how much time I spend worrying about the engagement and push to be constantly creating to stay relevant.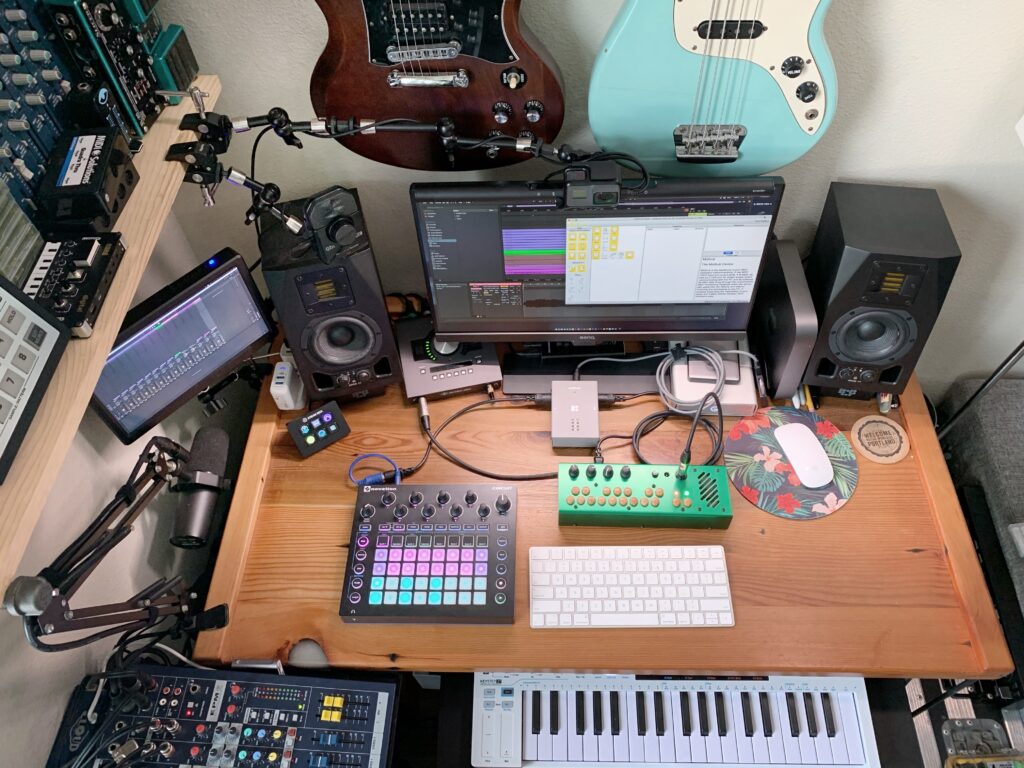 On social media, you post snippets from jam sessions. Do you jam regularly or when the inspiration comes? What sparks your inspiration?
It's a little of both, regular jamming and feeling inspired. I am always seeking inspiration in my day-to-day life, things I can bring back to work on. I have been participating in the #jamuary jams on Instagram since 2018 (thanks, True Cuckoo!), and the community around that is just phenomenal. I do things like Jamuary to create every day, which can be very draining, but I come out with many more ideas and skills every time.
I listen to a lot of music for sound/groove/arrangement ideas and watch other creators and makers of all kinds for process/workflow outside of music. I look into manuals or tutorials for a new trick to try or a parameter to explore. I also have two great books I refer to regularly: 72 Creative Strategies for Electronic Music Producers by Dennis Desantis and Loopop's In-Complete Book of Electronic Music Ideas, Tips and Tricks.
I enjoy jamming and the creative constraints of the 1 minute Instagram video limit, but I do take those ideas and make them into actual songs. I have a few commissions and remixes out there, but an official release is on the horizon. I have been holding off on releasing anything until the time is right and the pieces are in place, and that time is almost here.
"I think all electronic music performance needs a visual element since it isn't always clear what's happening with the performer."
From time to time you are streaming live on Twitch. Is Twitch a comfortable platform for music performances? Generally, what is your take on live performances online?
Twitch is very fun, and there is still a huge untapped opportunity for music performance on there. I started streaming out of necessity wanting to perform and found a lot of people tuning in because there was a big lack of music content on the platform, especially in the "dawless jamming" world.
There is a bit of a learning curve to setting up a stream, but it can be very rewarding the more time you spend with it. I really like exploring and explaining elements of my process and the ability to continue improvising as long as I want, instead of being limited to a specific set time.
The thing I miss most about live shows is the energy and direct feedback I get from the audience. The streams give me an opportunity to interact with the chat, but there's no substitute for a great live concert in person. I'm glad to have the option to do both going forward and that it gives more people access around the world that might not otherwise see you play.
You have mentioned before that you use as much gear as fits on a coffee table. Why these limitations, and what do visuals add to your performances?
I find that limitations foster creativity. I get lost in choices if presented with too many. If I limit myself to making the best jam with just a few devices, I can push further into my creative mind.
But when I go into the studio, I will plug everything in at once to give me endless options to take the sequences and create long-form pieces that I edit later into songs. The skeleton is there and allows me to play with more ideas instead of being lost staring at the blank timeline.
I think all electronic music performance needs a visual element since it isn't always clear what's happening with the performer. It gives the viewer something to latch onto besides the music, especially if they have no idea what is happening on the devices being played. I want the audience to be fully immersed in the show, and visuals give me another avenue to draw them in.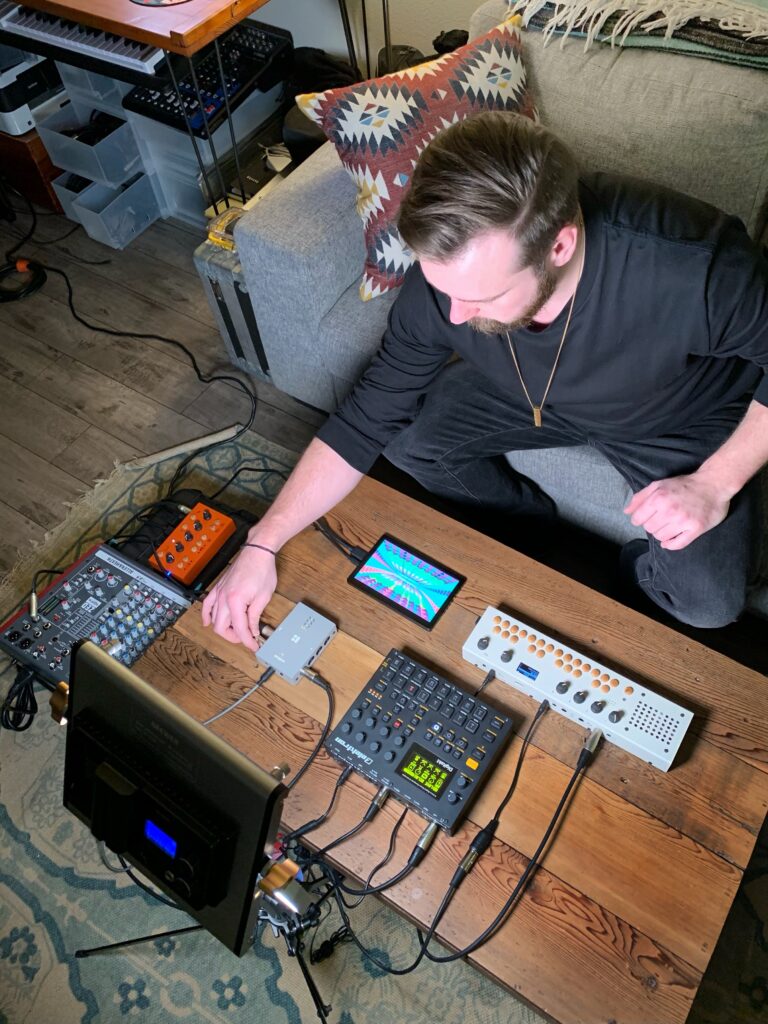 We have noticed Midihub in your setup. What was the main reason you decided to give it a go?
The Loopop review piqued my initial interest; I was amazed by the capabilities and opportunities Midihub presented. An all-in-one standalone midi router and filter? Making whole generative melodies from single note inputs? CC LFO generators without the need for a separate controller? Sign me up! I was a backer of the crowdfunding project right away.
Midihub solves many problems for me and is essential in the studio and in my jams – even though it's not always featured on screen. Recently I was using Midihub to route the Digitakt into Live using USB and virtual channels, then back out to multiple synths via DIN cables, each with different harmonizers, clock dividers, arps, and probability. I could alter the sync, so everything was perfectly locked in, and re-route all that midi data back into Live to be recorded. The setup is a breeze, and I can save presets for later use without a computer. It's also very crucial for expanding the Digitakt's midi limitations into my Eyesy video synth, manipulating parameters over long periods of time without me having to physically make changes on the device. Just amazing; I couldn't imagine working with larger complicated midi setups without it. It just works.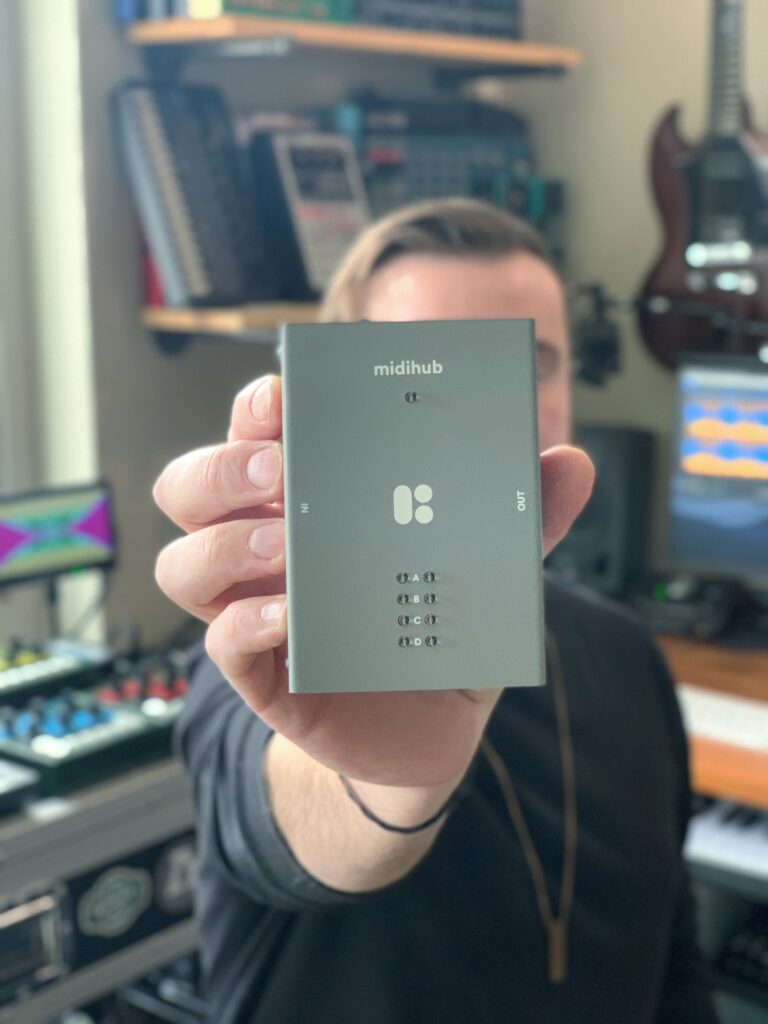 What are your plans for brother vs robot? Maybe some new projects or ideas are on the way?
My biggest goal is to get back to live shows and touring as soon as possible; I love playing live more than anything. This year I will be releasing music, producing tutorial/process videos for Youtube, and potentially launching a Patreon with sample packs, playlists, merch, and more. I will always be continually making new jam content and streaming regularly with live sets and gear exploration. Maybe a cool collaboration or two as well…
Before we say goodbye, could you please share a piece of advice with new electronic music creators who are still looking for their creative path?
Start small. Find what works for you. Use what you already have. Experiment with your own sound, and don't try to fit a mold. The newest/hippest/most expensive/rarest gear is not the solution; your own creativity is your best asset. Money can't buy talent. Read the manual twice. Study music theory. Recreate songs you love. Work hard. Be brave. Practice, practice, practice. I'm always happy to share my advice with anyone, so feel free to find me and chat!
Follow brother vs robot
instagram.com/brothervsrobot
twitch.tv/brothervsrobot
facebook.com/brothervsrobot
twitter.com/brothervsrobot
youtube.com/brothervsrobot