You can find numerous instruments in the music shops these days, but we are pretty sure you have not seen a trumpet like that before. Hy.E.T. is the name of the hybrid electroacoustic trumpet played and created by Giorgio Distante. A few years back, we were glad to see Pisound being a part of the Hy.E.T. setup, and we are proud to say that now Midihub has joined the family too. So if you are interested in creating an innovative instrument that makes people gasp, wait no more and join our discussion.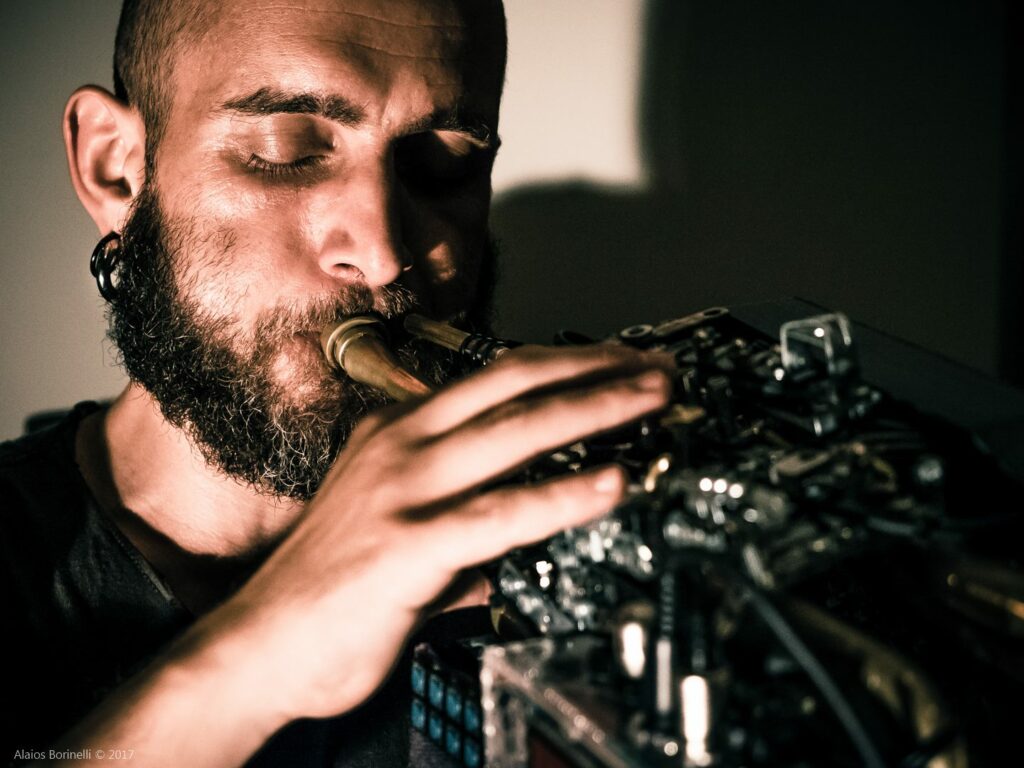 Let's talk a little bit about your relationship with music. When and how did it become a part of your life? What was the beginning of your project Hy.E.T.?
My journey into music started at 5 with the clarinet, then the piano and finally the trumpet at the age of 10. The first time I opened the case of my new instrument and smelled it, I knew that I would spend the rest of my life with her and live on it and so it has been until now. A beautiful love story.
Over the years I have searched for a vocabulary of sounds other than the melodic and monophonic aspect of the trumpet itself, percussive sounds, shouts and whistles have become part of my way of understanding and playing the instrument. In the meantime, I was developing a taste for sound processing and true interaction between man and machine. I wasn't interested in using the effects per se, but being in a constantly evolving sound. The two aspects, that of the acoustic instrument and the electronics were two very distinct things, therefore the need to incorporate the two into a single object, a single structure, the need to limit the movements in search of something towards the external (play the trumpet with your eyes closed in the dark and load a particular button or fader on a desk full of instruments and cables… no), have more control and processing possibilities.
"The first time I opened the case of my new instrument and smelled it, I knew that I would spend the rest of my life with her and live on it and so it has been until now."
How did you come up with the name Hy.E.T.? You once mentioned that it sometimes switches to Hello E.T., but it depends on the days. Could you please elaborate on that?
Her first name was Jaya Giobargo Tumamiao, but as a matter of speed it was changed to Hy.E.T. (hybrid electroacoustic trumpet) which quickly explains her function and then putting "hybrid" in the name of something is always cool… you never know. Hello E.T. comes from the fact that having built the circuit and other components by myself, in addition to making it work, I have also and above all learned to fix it in case of problems. And there have been problems over the years, of any kind. Recall that it is a conductive instrument (pressure and tactile sensors) on a metal frame… Hahaha. I didn't realize it when I started the construction. Now I have some more knowledge in electronics and cycling and I'm working on a new prototype with polycarbonate structure.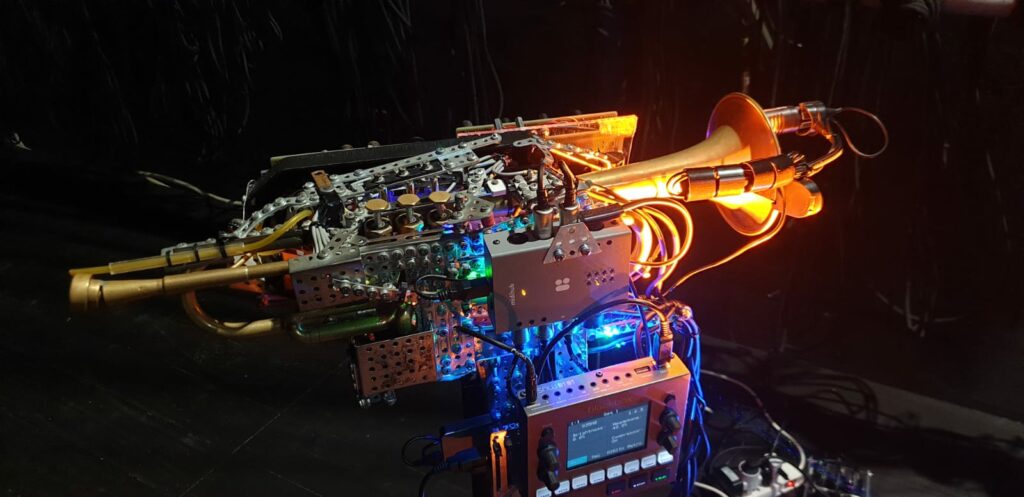 Your trumpet is definitely one of the most breathtaking trumpets we have ever seen! Could you please introduce your setup to other creators and us?
Hy.E.T. is designed as a modular tool. Its composition depends on the project in which I am involved. The heart of the instrument is a MIDI wind controller based on the emission (pressure sensor) and the positions (touch sensors) of the Bb horn. From there the possibilities are multiple. For my new project, at the time of this chat, the wind controller goes directly into Midihub and from there the signal is modified and routed into a Zoia pedal and a Blackbox. There are 4 self built MIDI controllers based on Arduino Nano: one that manages the Midihub patches for audio synthesis and parameter control over Zoia, two controllers manage two "spot" moving heads separately via DMX, the fourth controller manages a laser head always via MIDI/DMX, and finally there is a fog machine.
Why did you choose the Raspberry Pi and Pisound combo instead of some off-the-shelf effects processors? When and why did you introduce Midihub into your creative process?
I chose the Pisound and Raspberry Pi combo primarily for the possibility of having an excellent operating system, high sound quality and MIDI flexibility in a compact form so that it can be mounted on the Hy.E.T. Perfection for my purposes.
Even having it for a while, actually since it came out, Midihub has only recently become part of the Hy.E.T. Now it is essential for the routing of MIDI messages in the instrument since these concern both audio synthesis parameters and DMX control parameters. The flexibility and functionality of the Midihub is incredible. Bravo! I have to admit that I have two Pisounds, one Midiboy and one Midihub. Soon the second Midihub. They work too well. 🙂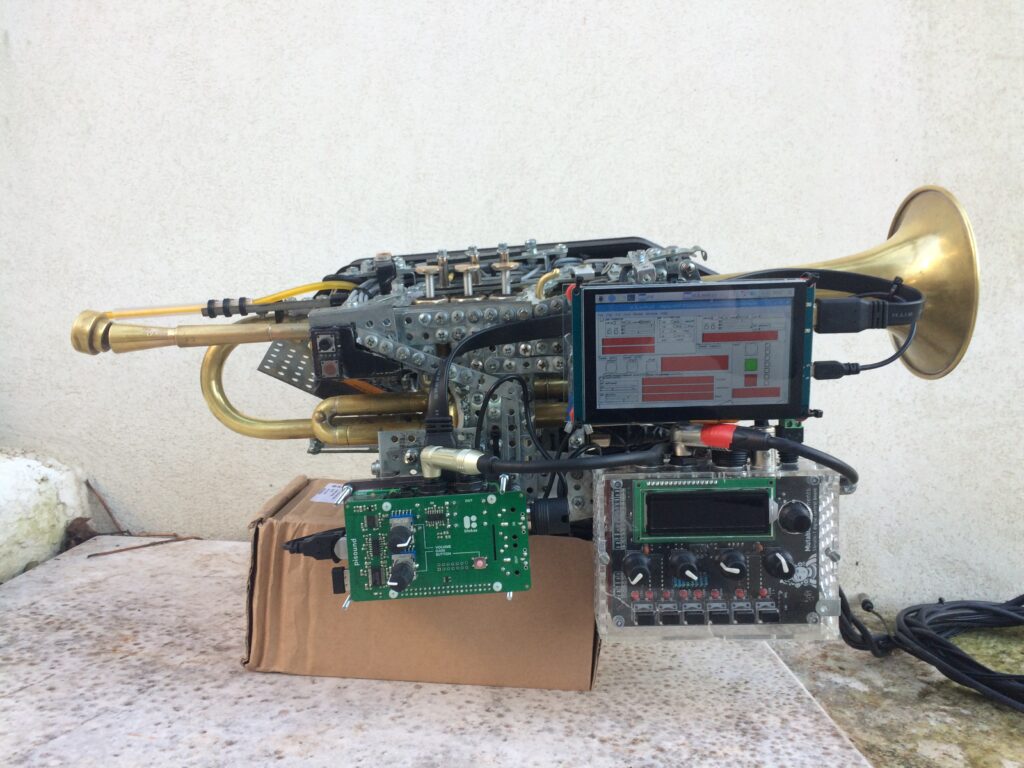 Could you please describe your sound? How much does the Raspberry Pi and Pisound combo add to it?
For years the only sound I knew and that interested me was that of the trumpet, if there was no trumpet the music didn't interest me in the least. In short, an instrument fetishist. Then almost by chance I came into contact with Electroacoustic music, suddenly Dizzy Gillespie had become Karlheinz Stockhausen, Clifford Brown was Luciano Berio, Miles Davis was Iannis Xenakis. I began studying Electroacoustic composition with Maestro Luigi Ceccarelli who then approached me to sound design and programming languages such as Max/MSP, Kyma, Pro Tools and the like. From that moment my concept of sound has changed, it has become something crystalline, material and concrete, something that can be processed and that can affect your way of acting and reacting to what happens music wise. Raspberry Pi, Pisound and Pure Data in combo have opened up a whole new palette of possibilities in a small, compact instrument of excellent sound quality. Something epochal, I would say.
"I think the important thing is to have a solid foundation of study, practice and knowledge, curiosity and necessity, so that the creative act takes place in the most neutral way possible."
Can you tell us a little bit more about your creative process? What does your creative routine look like?
Having the opportunity to work in different areas of sound (from concerts to audio/video installations, from the soundtrack of theatrical performances to physical participation in them), the creative process changes every time. It depends on the subject, the materials and much more. Do what you can with what you have. I think the important thing is to have a solid foundation of study, practice and knowledge, curiosity and necessity, so that the creative act takes place in the most neutral way possible.
Do you have any exciting future projects that you could share with us? If yes, please tell us a few details about them!
I have recently completed a theatrical residency on the street theater, in which I played mainly trumpet, euphonium, tuba and bass drum. Very beautiful and interesting. Given the historical period (COVID-19), as a person who works in the artistic and cultural field, I am asking myself the question of how the future of art will be, what will be its new usability and who will be its new users. Always ready for a possible EMP, I constantly practice my acoustic instruments (trumpet, euphonium and tuba). I keep alive the passion for music played by people with people for people. Returning to the world of electronics, in this period I'm trying to make sense of the words "playing the light". Having found an efficient way to translate signals from MIDI to DMX, I am investigating the possibilities of control via Hy.E.T. and Midihub to organize light in space. In this I find great inspiration in the art of Anthony McCall. Let's say that, having understood the how, now I have to understand the artistically what. New creative process, new self-imposed limits and so on. "Less is more" cit. At the moment I have all the space and time that I need. This is good.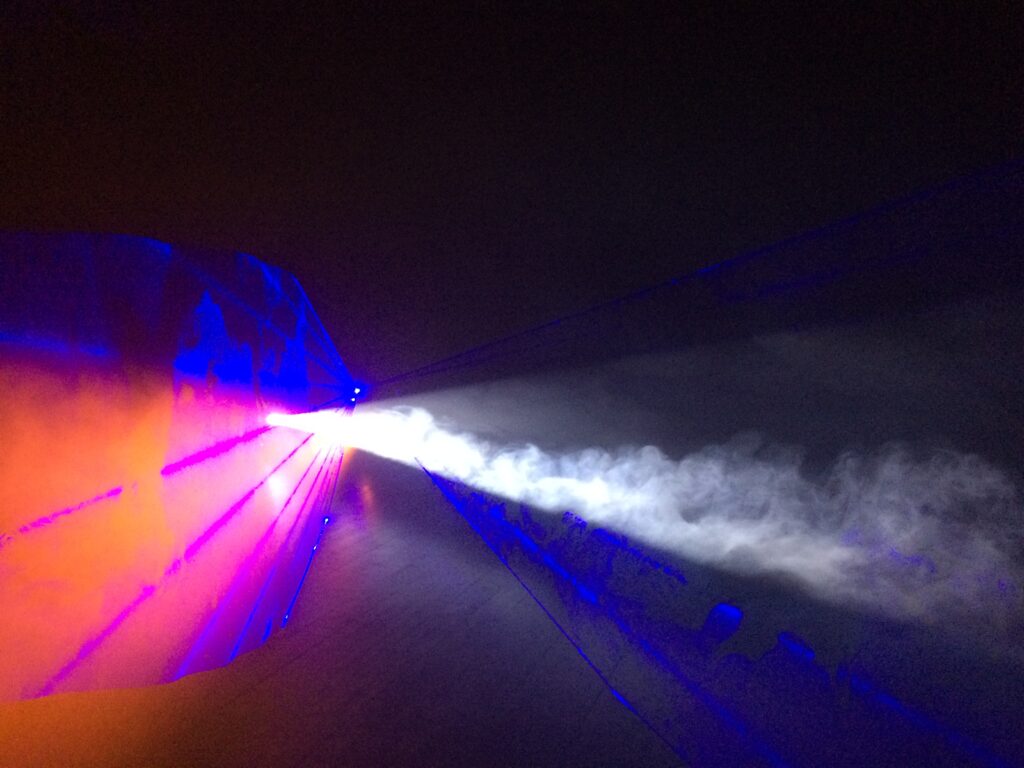 Follow Giorgio Distante
instagram.com/giorgio.distante
soundcloud.com/giorgio.distante