It is not a secret that learning to craft art on your own can be challenging. Yes, there are tons of valuable material online. You can also learn from books or other artists' works. However, there is one crucial thing you will not find anywhere else but within yourself. And that thing is devotion. Today we invite you to meet a self-taught artist from Barcelona, Spain – Adrián Gázquez, also known as electronic musician OMEGA dB, who devoted his time and soul to music. And we can tell you one thing – his hard work is definitely paying off!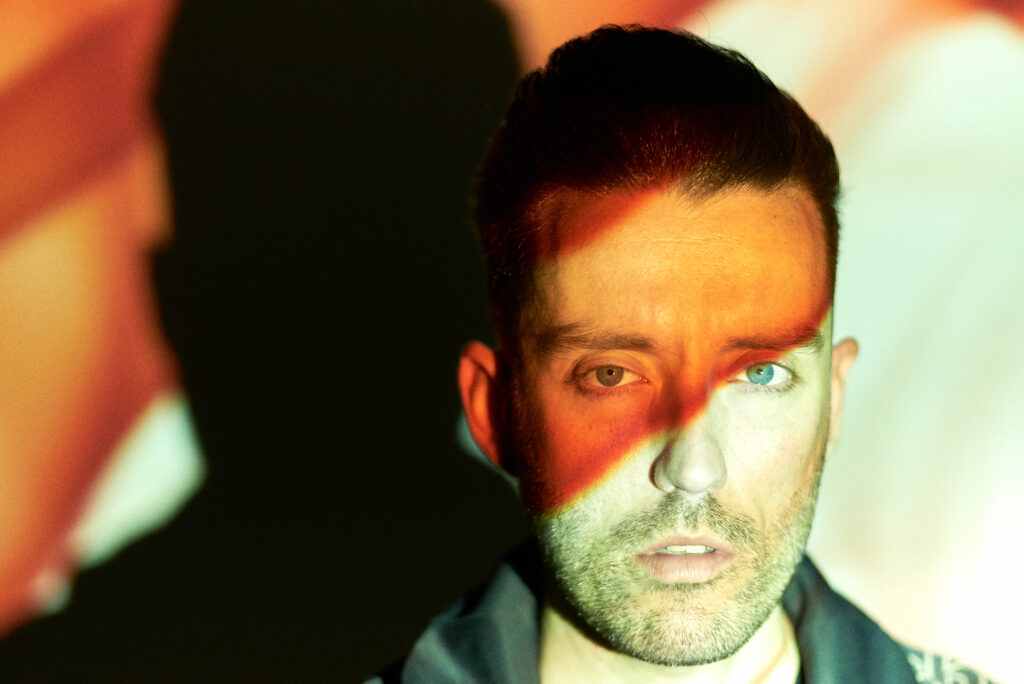 Take a look at OMEGA dB setup
Please share the story of your creative journey with us. When did your passion for sound begin growing?
I come from a music-loving family. My parents listened to a lot of music every day, as well as my brother and sisters, who are older than me. I listened to all kinds of genres, from Rock, Pop to Electronic. All this helped me to have sensitivity at a very young age and to be in contact with music.
As a child, I had a great passion for percussion. In fact, I played the snare drum in a typical Catalan folklore drum band, "Ball de Diables de Ribes Colla Jove", during a tradition that we celebrate twice a year in my hometown called "Festa Major".
The OMEGA dB musical project began to take shape during my adolescence. It was very important for me to go out at night and discover clubbing in Barcelona. I bought my first DJ equipment with the salary of my first summer job. That helped me get into the electronic music world. So that's when I realized that I wanted to create my own music, and it was possible to sound like a band with the power of technology. I bought my first PC, a sound card and a Korg Electribe. That's where it all started to this day. I learned everything on my own. Life is a path where you learn daily.
There have been many challenges along the way, and as redundant as it sounds, the music has always helped me go forward and further.
"I learned everything on my own. Life is a path where you learn daily."
Since 2014 you have already released 3 EPs and 2 albums along with various singles. How do you manage to stay productive, and where do you seek inspiration for your new projects?
That's right! This is a lifestyle for me. I get up and go to bed among synthesizers, drum machines, and technology. Every day I spend at least an hour or two playing them. I think it's important because you never know when inspiration will strike.
In addition, I always like to create albums under a concept, with a manifesto and a story to tell. That's great because it motivates me. Sometimes I have used moments from my personal life, Adrián's, to capture them musically in OMEGA dB. In fact, the musical project is an expressive need. That's why I think that this is about a lifestyle.
Why would you say it is important for artists to try out different gadgets, and how can this help in shaping one's individual style?
I think it's very important for an artist to try an instrument with their own hands. Not everything is based on sound. I also value aspects such as the quality of the construction or the touch.
I'm aware of the difficulty of choosing a device today… But most importantly, ask yourself a question: Why do I need it, and what can I do with it? If you don't know the answer, go to social media and look at videos and tutorials, there are many high-quality ones willing to help you decide. But finally, until you touch it and make it sound, you won't know if it's for you. I love to dance with them… That's my opinion.
"I think it's very important for an artist to try an instrument with their own hands."
You have recently tried out Midihub. What did you like about it the most, and would you recommend it to other musicians?
I love how quick and easy you can program presets through the editor, as well as save them for later use as standalone without a computer. It's hard to decide on just one pipe, but I especially like the "Harmonizer" as you can get so much potential out of polyphonic synths. The things you can do via MIDI are amazing. I've never seen anything like it before. On the other hand, the build quality is very good, and it is also light, which is appreciated if you are going to take it with you to the live shows.
I totally recommend it because I think it's an all-in-one MIDI solution for any musician who is not satisfied with just machine synchronization and wants to discover the MIDI implementation of their machines in a creative way.
"The things you can do via MIDI are amazing. I've never seen anything like it before."
Why would you say it is important to stay open and work with others? How did it help you to grow as an artist?
As I said before: "Life is a path where you learn daily". Collaborating with other brands and creators has given me the opportunity not only to learn in technical or creative ways but also the opportunity to travel the world and meet people from different cultures. It's very exciting to create and share content with everyone in an honest way. For me, the biggest gratitude is that those videos can help other people get inspired. Sometimes I, too, have been inspired by others. Sharing is winning.
Any exciting projects coming our way that we should keep an eye on?
Yes, right now, I'm working on my next LP and also on a short film. Stay tuned because I really want to share it with all of you.
Instagram
Facebook
Twitter
SoundCloud
Spotify
YouTube