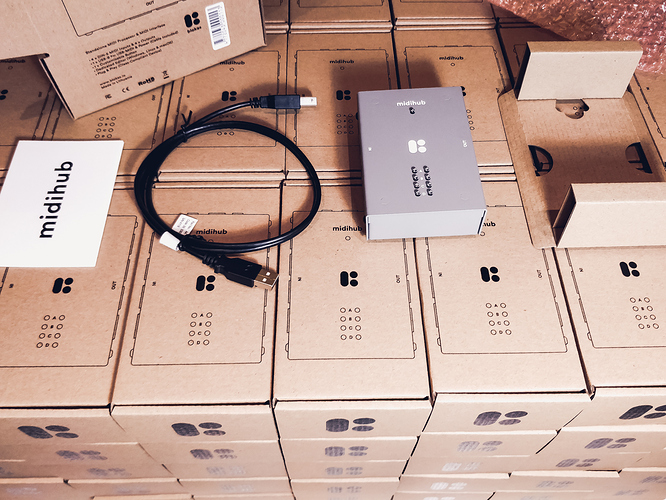 Good news, everyone! The first 106 Midihubs were shipped yesterday! That's what's up! 🎉
Shipping Stage
Currently we are able to pack and ship 150-to-200 units every week. We are looking to expand our capabilities, but in any case all of your orders will be shipped in coming 4 weeks. Once we start preparing your order you will receive an e-mail from us asking you to confirm your delivery address in case you want your package to be delivered to a different one. All packages are shipped using International Post and tracking numbers are provided.
While You Wait
You can find the Midihub documentation page here and for additional Midihub usage ideas you should definitely check out the CYLVESTER x Midihub video series. Also you can download the Midihub Editor for your platform even before your Midihub reaches you. Getting used to the Editor's user interface will highly improve your onboarding experience, nonetheless you should always reach out to us on our Midihub forum if you have any questions!
Summary
All of the Midihub pre-orders will be shipped in the coming 4 weeks. We highly encourage you to join this community forum just to say "Hi!", post questions & suggestions and, once you receive your Midihub, share with others how you integrated it into your setup!