Applications for Midihub Beta Program Are Now Open!
Midihub | 2018/06/28
As some of you know already, we are looking for beta testers for our new stand-alone MIDI Event Processor & Router called Midihub. Starting today we are moving onto the next stage and the applications for the program are now open!
Based on your answers we will invite 15 people to join the program. Midihubs will be provided free of charge asking you to cover only a fraction of the shipping cost as a sign of your commitment.
If you won't be invited, no need to be upset. All applicants will get a proper deal once the Midihub reaches the pre-orders stage.
Note that the registration will be closed on the 15th of July.
As always, if you have any questions or ideas, drop us a line via hello@blokas.io!
Major Pisound App Update: Real-Time Controls & MIDI Mapping! Wowza!
Pisound | 2018/06/14
Today we are releasing a major Pisound mobile app update that introduces a complete new layer of real-time controls!
From now on you can tweak the parameters of Pure Data patches within the app, play with the integrated MIDI keyboard and map your external MIDI controllers on the fly!
Big thumbs up goes to @thetechnobear, for his amazing MEC software package, @shreeswifty, who has prepared additional set of great Pure Data patches, and to @mantasb our Android guru!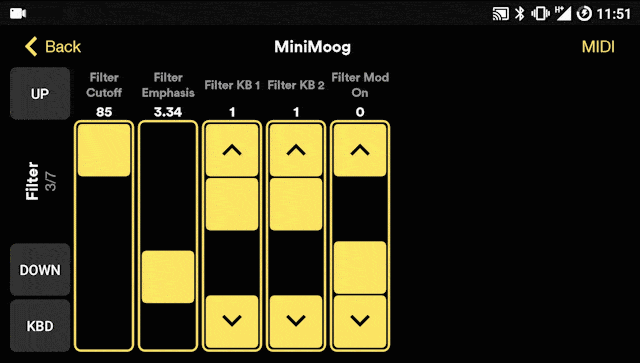 Navigate between separate parameters' pages. Control multiple parameters at the same time. Different types of control elements are supported!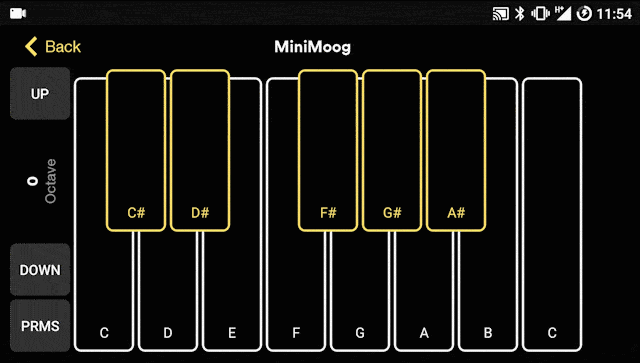 Play with the integrated MIDI keyboard. Toggle between different octaves. Enjoy fancy chords with multi-touch support. When playing with external MIDI keyboard, active notes will light up.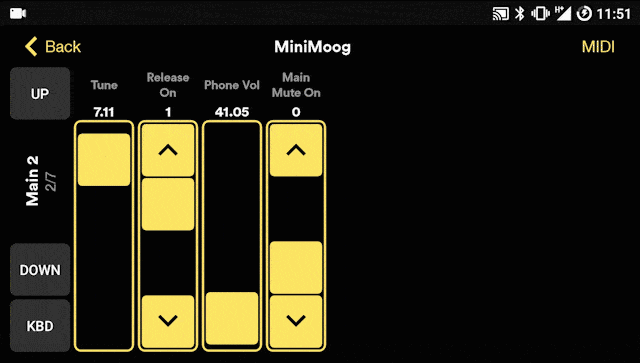 Enter MIDI mode to map your external MIDI controller. Select the parameter you want to map and turn a knob on your controller. You will see the parameter's position and the value changing. MIDI mapping is saved between sessions!
Steps you need to take to install this update:
Update Pisound software by typing sudo pisound-config and choosing Update Pisound option in a Raspberry Pi's terminal window
Mess around & enjoy!
Note: We will be publishing a complete guide on how to port your existing Pure Data patches for the updated app on our Community Forum in coming days. Stay tuned!
Pisound Turns One & Pisound App for Android
Pisound | 2018/03/14
Today is a special day for us. Not only it's international #pi day, but also on this very day one year ago we introduced Pisound and launched our crowdfunding campaign. It means it's birthday time and what's a birthday without some sweets!
For those who are yet to start their own Pisound-based project or want to expand their Pisound arsenal, PISOUNDTURNSONE phrase is one to remember. With it you will get a 14% discount in our store on all of your orders. Discount code will be active till the next Thursday, so the clock is ticking!
And for existing Pisound owners we have something even sweeter - Pisound App for Android!
As we have mentioned before, we are hard believers in the future of pocket sound computers. Pisound mobile app is an important stepping stone moving towards that direction, as it will allow us to create a whole ecosystem around Pisound without the need to redesign the hardware after every somewhat bigger functionality change.
Currently using the app you can run your own custom shell scripts, launch Pure Data patches, import files from a USB stick and observe real-time console output. Many new features including MIDI learn will be rolling out in the near future.
Huge thanks go to @shreeswifty, who joined our team to step up our sound-design game and has prepared a number of amazing Pure Data patches for you to mess around with, and to @mantasb our Android guru, who spent some countless nights working on the app.
Download Pisound App for Android here and join our community forum to share your experience with the app.
Keep in mind it's a Public Beta, some bugs may arise. Apple users, sit tight, version for iOS is coming soon.
Happy #pi day to you guys and as always, if you have any questions or ideas, drop us a line via hello@blokas.io.
Your thoughts about Pisound?
Pisound | 2017/12/12
We are reaching out to all Pisound owners out there. We would really like to hear from you regarding your experience with our little board.
To make it more convenient we have prepared this 9 question survey. It should take no more than 6 minutes of your time and by participating you will help us to pinpoint the main areas we need to focus next.
With your input we can make Pisound even more awesome!
Pisound Configuration Tool
Pisound | 2017/10/16
We created a "pisound-config" tool so you may reconfigure the most important aspects of the system for use with Pisound. Also, it helps to set up additional software or display some useful information.
Doing More with the Button
From now on you can easily add new actions to the button with your own shell scripts. Here is a short tutorial on how to accomplish that.
Update the Pisound Software
To update the Button software and start using the new configuration tool, run the below command in a terminal window. This will update all the software packages for Pisound.
curl https://blokas.io/pisound/install-pisound.sh | sh

To launch the configuration tool just type in the following command:
sudo pisound-config

Your Feedback
It would be really nice to hear from you what additional functionality you would like to see implemented in this configuration tool. Visit our community forum to share your ideas!
Call for Android Beta Testers!
Pisound | 2017/09/25
Hey guys, as promised, we're getting close to delivering the Pisound mobile app for launching patches from your mobile device! Now we are entering the testing stage and we're looking for some helping hands! The list of required items to participate:
Pisound;
An Android device with Bluetooth support;
Raspberry Pi* with Bluetooth support.
Raspberry Pi Version 3 has built in Bluetooth support. Other versions should work as long as a USB Bluetooth dongle is connected.
Please register your interest in testing the Android app by entering your e-mail you use for Google Play Store here. On October 1st we will add your account to our closed beta testers list and send out the instructions on how to participate and how to set up the software!
Keep in mind that this is the beta test round, so the app is not necessarily in its final appearance. Some issues are to be expected and we will do our best to act on the feedback you provide before reaching the public release.
Pre-Orders for Pisound Are Now Open!
Pisound | 2017/08/09
It's a real pleasure for us to announce that finally all of the boards have been shipped to our Indiegogo backers and starting today you can pre-order Pisound directly from our web store.
Currently, we have 99 boards in stock that are ready to be shipped immediately. Others will have to wait up to four weeks until we receive our second batch, so don't hesitate and grab yours now.
Support & Feedback We hope that you will build exciting things using Pisound and we are here to help! If you have any questions or just want to say "hi!" you can head straight to our community forums and, if the matter is really urgent, you can chat with us here.
We are hosting our documentation page on GitHub, feel free to make changes and share your experiences - those who are just starting playing around with Linux and Raspberry Pi will really appreciate that.
Final Note
As always, if you have any friends who are interested in DIY audio projects, we would be really really grateful if you could help us spread the word and once again we just want to say huge thanks to all of you who helped and supported us throughout our crowd funding campaign!
72 Hours Left
Pisound | 2017/04/24
There are less than 72 hours left until the end of our campaign If you know someone who would be interested in getting Pisound for a lower price it's the best time to let them know. Visit Indiegogo Campaign.
Progress Updates
We have been really busy working on delivering the stretch goals and finally, we have some tangible progress updates!
Mobile App - Watch Video
For the earliest prototype of the mobile app we focused on the main and most difficult part of the application which also makes up the bulk of the functionality - getting a list of available patches from a service running on Raspberry Pi, launching the patches and getting the output from Pure Data forwarded to the mobile screen. The next steps will involve polishing the user interface, porting the app to iOS and rigorous testing of the software, so it works in live and studio scenarios as reliably as possible.
MODEP - Watch Video
Even though we have just reached the LV2 stretch goal, we have already prepared an exciting project for you to try out with Pisound - an LV2 plugins host by MOD Devices ported for use with Pisound. We call it MODEP. There are already 144 LV2 plugins available to play around with, and we have customized The Button to enable switching straight to the desired pedalboard. See docs for more information on the project.
Thanks again for your support and stay tuned for our future updates! Any questions or feedback? Chat with us at https://community.blokas.io
Let's Do Some Stretching #2!
Pisound | 2017/03/21
Thanks to your support Pisound is currently near the 300% mark! Thank you very much! Nevertheless we are not done yet! Together we can take it to the next level! Here are our stretch goals:
GPIO Header Holes
Your Pisound board will come with header holes that will allow you to easily connect to the unused Raspberry Pi pins. It was quite a tricky part to expose them without using 4-layer board, so we really hope you will take a good care of them.
Mobile App
Android & iOS Apps for selecting & launching patches. The App will display the output of the console too, so you will be able to have a real-time feedback on what's happening under the hood. Also we will add some patches to get you going!
LV2 Plugin Host
For those who haven't already explored LV2 world, LV2 plugin format is the Linux equivalent to VST on Windows/macOS. There are already hundreds of LV2 plugins out there that you can run on your Raspberry Pi. Currently there is no convenient way to play around with LV2 plugins especially without using an external monitor or mouse. We will fix that!
Let's Do Some Stretching!
Pisound | 2017/03/16
A lot of amazing things happened in the last three days.
We launched our crowdfunding campaign for Pisound, managed to pass the initial goal in less than 24 hours, were featured on Indiegogo's frontpage, received coverage from the main music-tech media outlets and currently we are close to reaching 200% mark.
All of this is the result of your support. THANK YOU!
Now we are asking your opinion regarding the future development of Pisound. Please fill the Stretch Goals form here . The survey will take only 15 seconds and based on your feedback we will introduce at least one of the listed goals as the support grows.
We Are Live!
Pisound | 2017/03/14
The day has come and from this point on Pisound's future is in your hands!
Over past 18 months we went through 6 different hardware revisions, had a successful beta-test program and now our little interface is fully ready to be used in your Raspberry Pi based audio projects.
We truly believe that we have created something that will help you bring your ideas to life quick and easy with a smile on your face.
Eternal Testing is Over!
Pisound | 2017/03/10
Good news, everyone!
Thanks to your suggestions and feedback the testing stage of Pisound is over! Oh yes, that means we are finally launching our crowdfunding campaign!
And can there be a better day to start the campaign for Pisound than the #piday? We don't think so either. Starting from next Tuesday we will have some special offers to all of you who supported us from the beginning!
Pure Data Guru Wanted
Pisound | 2016/11/11
As we are getting closer to the launch of our crowdfunding campaign, we are looking for additional pair of hands, that would want to step in and help us prepare some Pure Data patches for use with Pisound.
If you know your way around visual programming and want to participate with us in this journey, drop us a message at hello@blokas.io with a short description about yourself and your experience with Pd.
Beta Boards Are Here!
Pisound | 2016/09/22
Finally! Our first test batch arrived today. Everything looks great and we are uploading the firmware at this very moment.
We will be reaching out to selected beta testers in coming 48 hours, so don't forget to check your email. And if you don't get the invitation, don't worry - we will have a special proposal for all the members on this list during our crowd-funding campaign. Stay tuned!
Also our documentation page is up and running. You can head there to read more about Pisound and if you have any suggestions, feel free to make changes!
Pisound Beta Program
Pisound | 2016/08/30
We would like to thank all of you for showing huge interest in Pisound and our beta-test program. We haven't even dreamed there would be more than a thousand makers and enthusiasts around the world who would like to beta-test our board. It's really exciting to get this amount of support and we are especially looking forward to see what you will create using Pisound!
Now we are starting the second stage of this program. As the number of test boards we have is limited, we won't be able to send Pisound to all of you. We ask that you send us a short description about yourself and the projects you are working on to hello@blokas.io. Our main goal is to find the most interesting projects out there, get the feedback on beta tester's experience using Pisound with different kinds of hardware and software, and when the beta-test program is over, share the end results with all of you.